Syphon Filter: Combat Ops™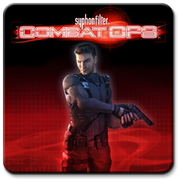 Information
| | |
| --- | --- |
| Platform | PSP |
| Series | |
| Release Date(s) | 2007 |
| Online | Shutdown (since June 27, 2012) |
Syphon FIlter: Combat Ops was a multiplayer game where players face off in multiple maps. There was a level creator.
Overview
Syphon Filter: Combat Ops expands the multiplayer experience presented in Syphon Filter: Dark Mirror and Syphon Filter: Logan's Shadow, by adding mission and combat modifiers, map editing features, and the ability to share user-generated content. For the first time, users have the ability to create their own multiplayer missions with the ability to edit objectives, avatars, spawn points, and zip line locations, then upload them to the game server to share with other PSP owners worldwide. A ranking system for shared maps allows players to rate maps they have downloaded and played.
Shutdown
As of June 27, 2012[1], Syphon Filter: Combat Ops online feature was shut down, as well as Syphon Filter: Logan's Shadow and Syphon Filter: Dark Mirror Online.
Gallery
References
Trivia
It is so far the only Syphon Filter game in which no story exists.
Ad blocker interference detected!
Wikia is a free-to-use site that makes money from advertising. We have a modified experience for viewers using ad blockers

Wikia is not accessible if you've made further modifications. Remove the custom ad blocker rule(s) and the page will load as expected.