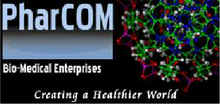 Pharcom was the bio-medical organization that helped develop the  
Syphon Filter Virus. Pharcom CEO Jonathan Phagan was involved with the terrorist group Black Baton, providing necessary lab materials for the synthesis of the virus for use as a biological weapon. 
Pharcom had a base in Kazakhstan where the Syphon Filter virus was transported, it also had a huge Russian war-missile, which Logan realized Phagan and Erich Rhoemer intended to launch. 
Members
 Jonathan Phagan: Founder and CEO of Pharcom. (Dead)
 Richard Erikson: Head of Pharcom's European operations, he appears in the mission of Kazakhstan. Status: Unknown
 Mr. Cochran: CEO with Phagan's demise. (Dead)
Soldiers
Ad blocker interference detected!
Wikia is a free-to-use site that makes money from advertising. We have a modified experience for viewers using ad blockers

Wikia is not accessible if you've made further modifications. Remove the custom ad blocker rule(s) and the page will load as expected.