Gabe - "Anton Girdeaux . . . I hope Rhoemer's paying you enough to die for him!" 
Girdeaux - "Gabriel Logan . . . Always the optimist . . . Look around Logan! This hall contains the mosaic depicting the entire history of your country's wars and aggression. We are about to make an addition to it!" 
Gabe - "I don't think so Girdeaux. It ends here!" 
Lian
-
"Gabe, Girdeaux's wearing full body armor. You've got to find a weak spot!"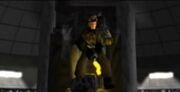 The
Freedom Memorial
is the fifth level of
the first game
in the Syphon Filter series.
Gabe
has just finished navigating through Washington Park while protecting
CBDC
agents, and he has entered the Freedom Memorial building in order to kill
Anton Girdeux
.
Walkthrough
A short cutscene in which Gabe and Girdeux exchange greetings begins the mission. Gabe tells Girdeux that he "hopes Rhoemer's paying him [Girdeux] enough to die for him", to which Girdeux replies that Gabe is "always the optimist." When this is over, Lian informs Gabe that Girdeux is wearing full body armor and that he must find a weak spot. The briefing also mentions that using explosives will set the viral bomb off.
Girdeux is on a raised platform that houses a statue of someone with the head knocked off, while Gabe stands behind a pillar. There are items scattered throughout the level, around the walls. Defeating him is simple enough. Equip the .45 or shotgun and use the lean function to peek out from behind a pillar, shooting the backpack fuel tank that Girdeux's flamethrower is attached to. Doing this four or five times will set him on fire, ending the mission. Lian contacts Gabe, urgently asking if he is all right. Gabe replies that "he's finished" and asks her to call in CBDC agents to clean up.
Goofs/Interesting Stuff
Amusingly, if one maneuvers Gabe behind Girdeux, they will see that Girdeux's blast shield does not cover the back of his head. This would make for an easy head shot, but the developers missed this when creating the model, so this is also invincible. Also, using the air taser brings up a unique "Armor" message instead of the usual "Flak Jacket" warning. This level is the first instance of the developers screwing the sounds up. The shotgun makes the sound that the combat shotgun makes in the next two levels. A similar error occurs with the combat shotgun in the Kazakhstan levels, but in reverse.